The Greatest Gifts . . .
Are always unexpected . . .

There was a king - King Arthur of Camelot
There was a knight - Sir Nicholas the Dragon
There was a wager that each swore he would win . . .

Lady Noelle has no intention of marrying just to save her family's castle. She feels nothing for Sir Gavin, the man who will become her husband on Christmas Day. Then she spies Camelot's newest knight, the notorious Sir Nicholas the Dragon, a champion as renowned for his prowess in the beds of Camelot's maidens as for his skill in battle. Noelle's heart has found the man she longs for, even as her hand is promised to another.

Christmas may never come to Camelot.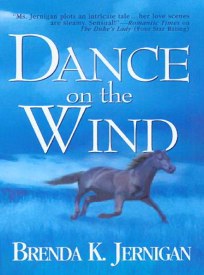 "DANCE ON THE WIND is a tender love story with charming children, a feisty heroine, and a rugged hero. Don't miss it!"
Joan Johnston
NEW YORK TIMES BESTSELLING AUTHOR

When Brandy tricks Thunder into accompanying her and five orphans to Fort Laramie, he swears she'll regret the day she roped him into this adventure. What he doesn't count on is losing his heart to the rag-tag children trying to become a family and survive. Now the half-breed is caught between two worlds and two choices: to love Brandy or return to his beloved Cheyenne.




Coming November 2003

Until September


She is beautiful . . .
She is smart . . .
But Claire Holladay is going to die.
When Claire hears she only has until September to live, she decides that she will live life to fullest. She heads west, enjoying things she has never done before. And when she loses her heart to Billy West, Claire finds out what it is like to walk away from the one thing she wants the most.